Shopping Cart
Your Cart is Empty
There was an error with PayPal
Click here to try again
Thank you for your business!
You should be receiving an order confirmation from Paypal shortly.
Exit Shopping Cart
Custom Car Audio and Video

| | |
| --- | --- |
| Posted by Chris Hine on December 17, 2015 at 4:05 PM | |
Apple's CarPlay and Google's Android Auto have arrived on the scene and are now very comfortably nestled into the dashboard of CNET's test car. I've been using the two dueling smartphone integration systems for a few months now -- eight months, to be exact, for CarPlay and two with Android Auto -- so I think it's time that we address the question on the tip of everyone's tongue. Which one is better?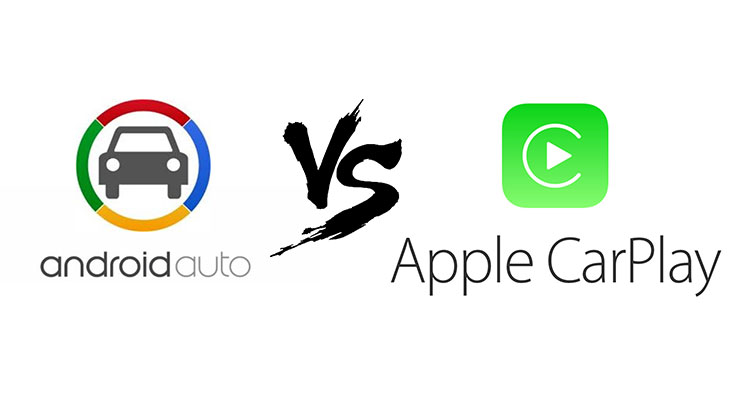 Home screen and organization
The biggest difference between these two systems is the way organize their apps, functions and information, so let's start here. The two interfaces largely echo the design philosophies of their host handsets' respective OSes.
CarPlay, like the iPhone, has a flat organizational structure that presents all of its apps and functions as large icons on a scrollable homescreen. Here, none of the functions is more than one level deep; there are no submenus, folders or lists. Getting almost anywhere in the CarPlay interface is a one- or two-tap affair. It's hard to find fault with CarPlay's organization because there's not much there. In this case, simple is good.
Look at the bottom edge of Android Auto's screen and you'll see a handful of icons that provide quick shortcuts to the various functions. On one hand, this is nice because you don't have to pass though the home screen to go from choosing an audio source to looking at the map. But on the other, all of the audio apps are siloed under a headphone icon that, when tapped twice, displays a list of cards. This sort of makes sense, as you can't really be listening to more than one audio app at a time.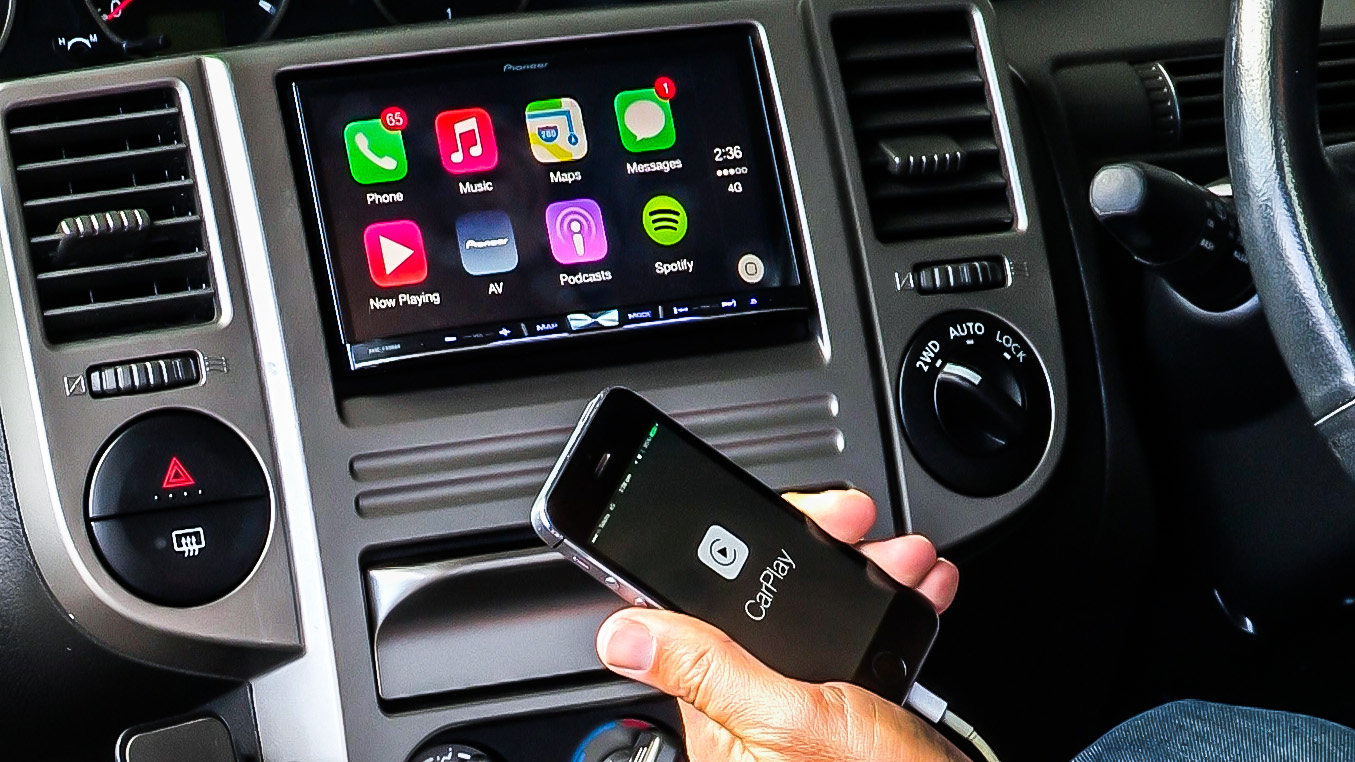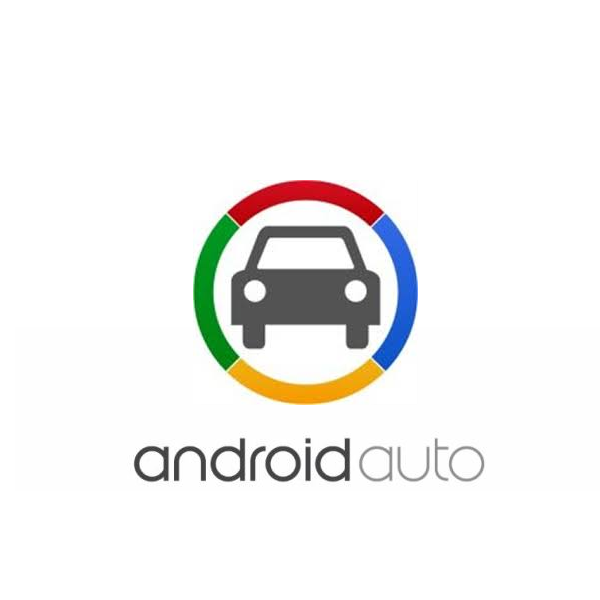 Android Auto presents Google Now, a live-updating, contextually aware stream of information cards displaying weather information, notifications and shortcuts to likely destinations based on your habits and recent searches. When Google Now works, it is brilliant. For example, an email in my inbox with my girlfriend's flight information would automatically prompt Android Auto to suggest a route to the airport when it was time to pick her up.
Android Auto's Google Now integration puts contextually aware cards on the home screen. But sometimes, Google Now misses the boat. For example, after Googling the address to a women's clothing store for a friend using my phone, Android Auto constantly displayed the store as my top destination suggestion. That was just a minor annoyance, but what if I was secretly researching gift ideas for my girlfriend only to have Android Auto rat me out when we're in the car together? Some drivers may not want Google just showcasing their driving habits to everyone in the car, but there's no real way of controlling what you'll see on Android Auto's home screen.
CarPlay displays much less information, but there are some clever details in what it does show. For example, when you've missed a call or text message or if there's an unplayed podcast in your queue, the icon for that function will display a little red circle in its upper-right corner that contains the number of missed messages. With Google, missed message and call notifications get shuffled into the list of Google Now cards. Apple's solution seems just a tad more elegant in this respect.
Navigation
Google Maps, the 800-pound gorilla of the navigation world, is the default navigation app for Android Auto. In the dashboard, the software looks even better than it does on the phone, filling the screen with well drawn maps and crisply rendered turn-by-turn directions. Along the way, Google Maps gives you verbal traffic updates, suggests alternate routes and can even let you know if a business will be closed before you get there. And, depending on where you fell on the Google Now discussion earlier in this article, Android Auto also does an excellent job of integrating with Maps with its suggested destination and commute information cards.
Google Maps gives Android Auto the edge in the navigation category.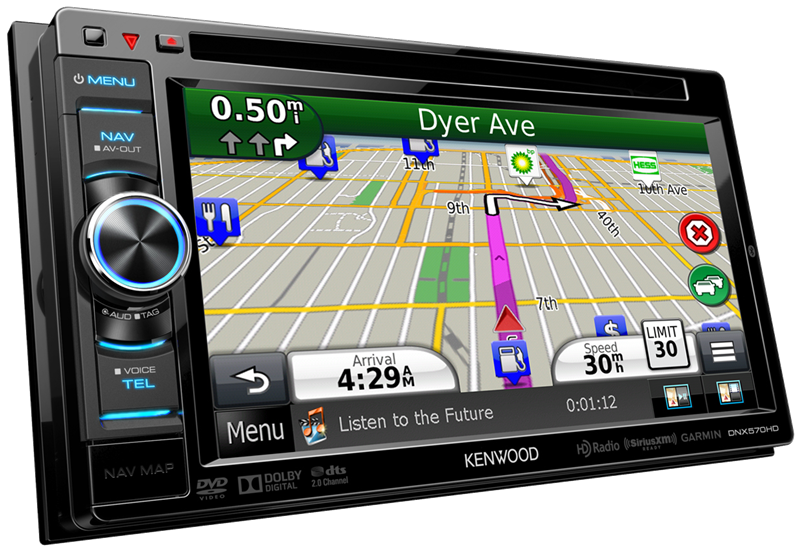 On the CarPlay side of the divide, Apple Maps is your only choice that integrates well with CarPlay and Siri voice commands. While Apple Maps looks as good as Android's and gets the job done, most of our editors and all of my iPhone-toting friends seemed to agree that Google Maps does it better. The advantage here goes to Android Auto.
Neither system gives the driver a choice to use a third-party navigation software like Waze, TomTom or Scout. This is a pity as there are some really good free and paid navigation options and some excellent offline navigation options. (Currently, neither Google or Apple's Maps have very compelling offline routing or mapping capabilities, crippling them in situations where you find yourself off the grid.)
Messaging apps
CarPlay keeps things real simple when it comes to messaging. It supports only Apple's own native messaging application. Text and iMessages come in as notifications and are read aloud at the touch of a button and can be replied to via Siri voice dictation. But if your friends prefer to use a different messaging app, such as WhatsApp or Skype, you're out of luck until you park the car.
When in use, Apple CarPlay locks the handset to prevent the use of unsafe apps. Android Auto has a similar lockout.

Android Auto, on the other hand, throws the doors open and features support for integrating third-party messaging apps. At the time of publication, about 11 services are supported including Google's own Hangouts, WhatsApp, Skype, ICQ, Kik and more. For sheer breadth of apps, Google takes the advantage here hands down.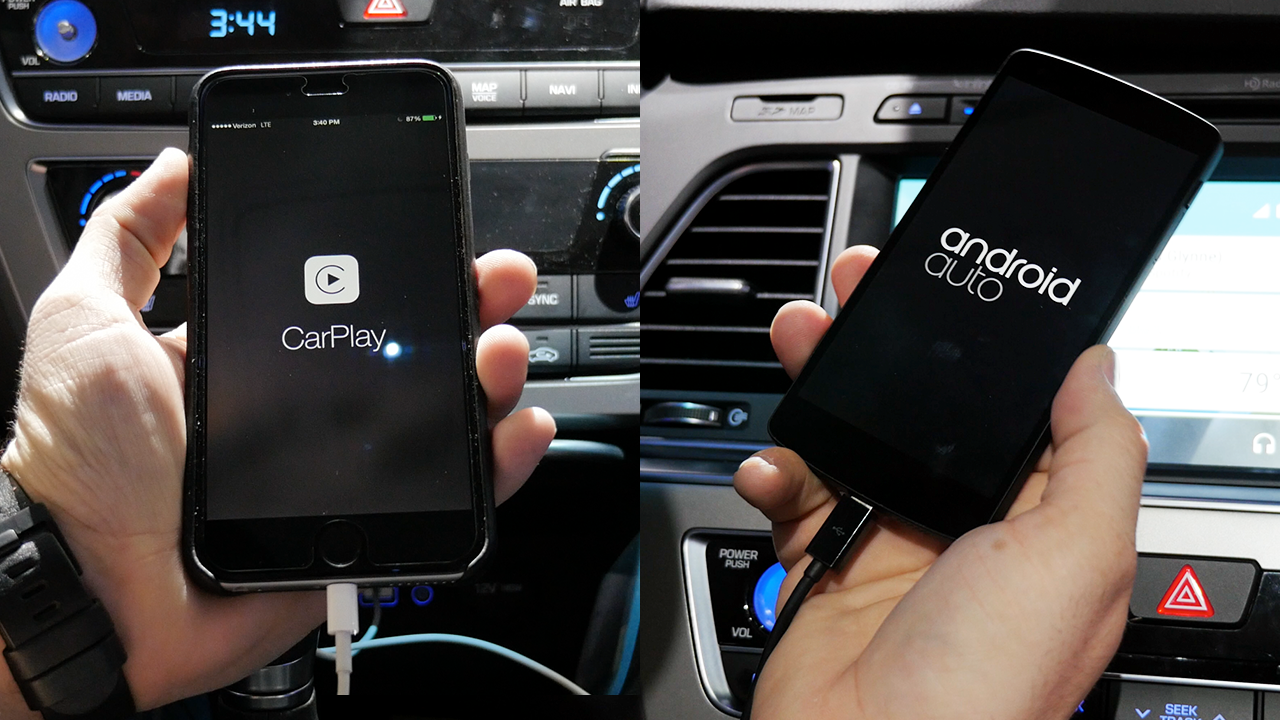 Incoming messages from these third-party apps are handled by Android Auto just like native SMS. Received messages are read aloud by the text-to-speech software and can be replied to via voice command. Simply tap the voice button, say "reply" and then speak your message. I found the process to be very low-distraction, requiring next to no visual input or confirmation.
Audio streaming apps
Both CarPlay and Android Auto come out of the box swinging with extensive lists of third-party audio streaming apps. It makes sense: Listening to audio content is one of the oldest and safest forms of in-car infotainment.
Both Android Auto and CarPlay support a wide range of music, news and podcast audio apps.

Obviously each system supports its respective native audio apps. For CarPlay that's iTunes Music and Podcasts. For Android Auto, it's Google Play Music. Both OSes support major players like Spotify, iHeart Radio, Stitcher and Umano, but neither seems to count Pandora among their supported apps, the developer likely sticking to its Pandora Link connectivity, which is supported by dozens of infotainment systems and car stereos.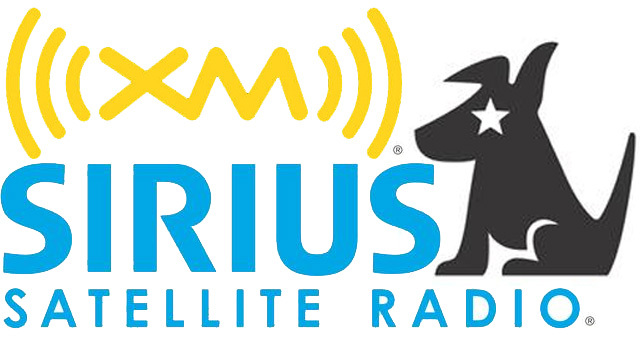 CarPlay gains a slight advantage here with a slightly larger list of officially supported apps, which numbers 13 at time of publication versus Android Auto's nine. This could be a fleeting advantage, however. Both OSes have published APIs that allow any third-party audio app developer to easily adapt their software for Android Auto or CarPlay and new apps are almost constantly being added to either list.
Voice commands and search
Google Now's voice search component is powerful software, but so is Apple's Siri. Both allow the driver to initiate calls, send text messages and request turn-by-turn navigation simply by speaking. Both allow the driver to effortlessly schedule reminders, make calendar appointments and get the answer to inane questions like, "How old is the Golden Gate Bridge?"
The voice search systems are so evenly matched in my experience that I'm calling it a tie. Depending on your accent, the type of requests made and a variety of other factors, your mileage may vary. You can watch the Siri and Google Now virtual assistants go head to head and decide for yourself.
Compatible phones
How will you know if your handset is compatible with Android Auto or Apple CarPlay?
Here's how you can tell with an iPhone. Just flip over your phone and, if you're looking at a Lightning connector, as opposed to an old 30-pin connector, you're good. Just make sure the device is running the newest version of iOS and plug that puppy into a compatible car stereo. For those without an iPhone handy, the list of compatible phones includes the iPhone 5, 5C and 5S and the new iPhone 6 and 6 Plus models.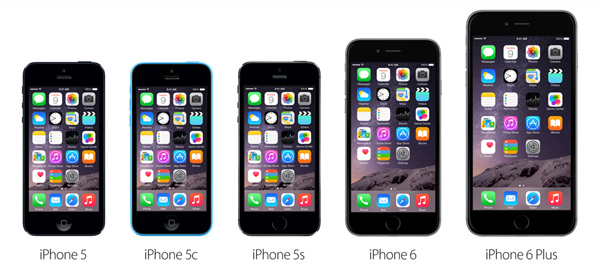 Google claims that any handset running Android Lollipop is compatible with Android Auto, but as receivers started to hit the market many users reported getting incompatibility messages for popular devices such as the Samsung Galaxy S5 and S6, the LG G3 and others. I've had my unmodified Google Nexus 5 go unrecognized with one Android Auto receiver, stutter and freeze with another, and then operate perfectly fine with yet a third. You simply never know what you're going to get.
True, many of these issues have been worked out with subsequent updates to Android's Google Play Services framework, but the fact is that with so many flavors of Android out there, the only real way to know if your phone is compatible with Android Auto is to plug and pray.
Compatible receivers
For those looking to buy a new car with either Android Auto or CarPlay, this is pretty much a draw. Almost every automaker that's announced plans to support one of the systems has announced that it will be supporting both. There are a few exceptions: BMW, for example, and Ferrari are CarPlay exclusive. (Though, I'm sure that lack of support for Android Auto is pretty low on the average Ferrari buyer's list of dealbreakers.) If you'll be looking at a Hyundai, Jaguar, Volkswagen or any of about a dozen other brands, keep the phone you've got.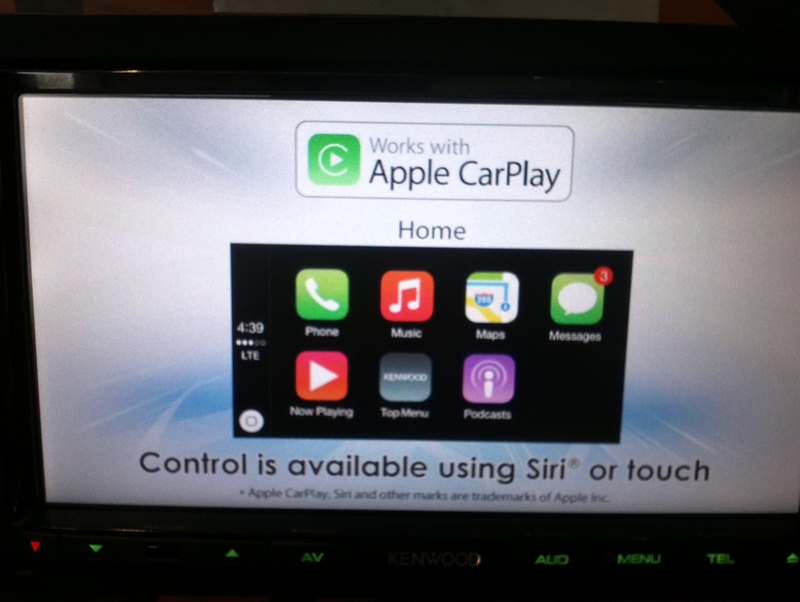 The aftermarket is also pretty evenly matched for CarPlay and Android Auto support. New models from JVC/Kenwood, Parrot and Pioneer -- including the Editor's Choice-winning AVIC-8100NEX -- will be ambidextrous, supporting both protocols. Apple reached the market a few months earlier than Google, however, so CarPlay also have the option of considering last year's Pioneer NEX series and Alpine's ILX-007 as potential budget options, giving Apple the slightest price and quantity edge in this category.
Future aftermarket and OEM receivers, like this Hyundai Sonata's, will end up supporting both Android Auto and CarPlay. Hyundai
A photo finish
Android Auto and Apple CarPlay are fairly evenly matched where functionality is concerned, so the primary differences come down to differences in their core design philosophies.
Like most Apple products, CarPlay presents a simplified and well thought-out design that leaves very little room for confusion. With one hand, Apple gives its drivers the largest selection of third-party music and audio apps. With the other, it takes away all other choices with zero support for third-party messaging apps. Considering that messaging is historically more distracting than listening, I can sort of understand Apple's stance here.
Android Auto on the other hand takes a different tack with nearly the same feature set. Rather than a barebones interface, it brings information to the driver with contextual Google Now cards that seemed to know where I was headed before I did. Google also gains the edge in number of apps supported, thanks to its ability to integrate third-party messaging apps.

Which is best for you will depend on what you prefer from your mobile OS, but realistically your decision was already made when you chose the phone that's in your hand right now.
The Noize Boyz
265 Edward St
Aurora, ON
L4G 3M7
Categories: None
/